The ultimate aim of Red Collar Rescue is to match a dog with a loving owner who understands what it means to be responsible for a loyal and loving life-long companion. Many of our new owners keep in touch, sending us updates on their dog's progress and the occasional "happy snap". Also see adoted Red Collar Rescue dogs on facebook – 
Happy Tails!! ex-RCR dogs in their new lives.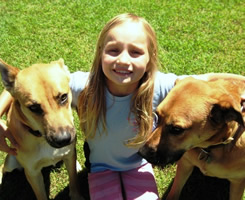 Jett - A Much Loved Playmate and Family Member
After arriving in Australia from South Africa 2 years ago, we were eager for the arrival of our Bobbi out of quarantine. She arrived safe and sound 7 months later, and of course we were elated. Before immigrating we had decided that we would definitely adopt a playmate for Bobbi once we were all settled in our new home. Bobbi had been with us for just under a year when we took the plunge and started the search for a new dog. A friend had suggested the Pet Rescue website where we came across all shapes and sizes of dogs. Our search was tireless and might I add, not much fun. It's heartbreaking being faced with so many needy animals knowing you can only help one. Then we came across Jett (formerly known as Dougal), listed with Red Collar Rescue. I contacted Sharyn and we both immediately knew that he would suit our family. Sharyn kindly drove all the way down from Biggenden to Brisbane with our little Jett and it was love at first sight! Bobbi took to him immediately and they have been best friends ever since. Our daughter, Jordyn, adores her new dog and of course, Jett thrives on his popularity with her and all her mates. It felt strange having two dogs after always having just Bobbi for so long but we really can't imagine life without our little guy now. He is literally a laugh-a-minute character and sincerely just wants to please. He has put a spring in Bobbi's ageing step and lives everyday to the absolute max. If you give Jett five minutes of your time, he'll give you his entire day. He is a very very loved and special pet. I will always be grateful to Sharyn for her wonderful and endless efforts in saving healthy dogs' lives, most of all Jett's.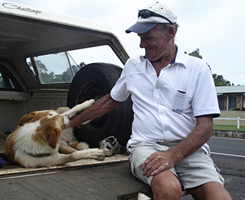 Fonz - Chief Tradie Lunch Taster
Fonz is a special guy who has made his new owner very happy. A short-haired Border Collie, 18 months old, Fonz needed a home where he would receive plenty of exercise and socialisation with other dogs and family members. Fonz now has a daily routine that would leave many of us exhausted! Fonz goes for a daily swim before jumping in the ute and heading off to the family construction business where he takes his role of "Tradie Lunch Taster" extremely seriously.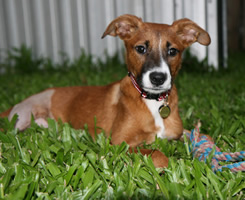 Katie - Living Life to the Full
Katie was found lying in a drain just near our house early one morning. It was evident that her leg was broken; no doubt she had fallen from a Ute on the highway and crawled through the bush. She was taken to the nearest vet where pain relief was given and then immediately taken on a 4 hour drive to our vet in Brisbane. Once X-rays were taken it was seen that the entire knee joint was shattered and pushed an inch toward the back of the leg, there was no way to save it. The decision was made to amputate, knowing that she was young and would learn to adjust. Once the surgery was completed they examined the damaged area and informed us that she had been that way for up to a month. She healed beautifully, had all of her other vet work done and now has a wonderful home in Brisbane where she is living life to the full.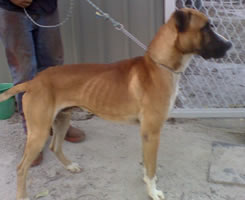 Gus - Given a Second Chance
Gus was at the local pound, and had been there for some weeks. He was skeletal and timid, but with some food and love he became very cuddly. Always wary if you moved too fast, but desperately wanting to believe that someone cared.Gus had all of his vet work done, and found a new home with a family to love him. He is now loved, valued and spoiled. Just as he should be.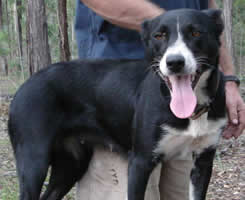 Jade - From Doomed Working Dog to Canine Disc National Champion
Jade came to us via a neighbour as they were going to shoot her. Her crime was that she couldn't work cattle properly. At just 1 year old she had already had a litter of puppies that were drowned as they were being born, and was facing death herself. We contacted a number of agility clubs and were lucky enough to find a Frisbee mad family prepared to take her in. She was desexed immediately and nurtured back to health. She took to Frisbee like a natural and in her second year came second in the Australian Canine Disc National Championships. She has also gained her Australian Agility Dog title.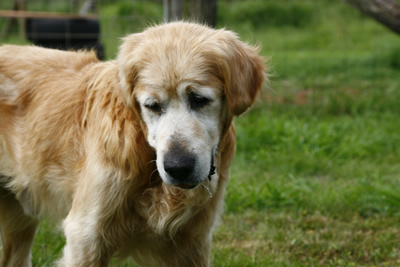 Sarge - A New Life for an Old Dog
Sarge is a geriatric purebred Golden Retriever who was rescued by Red Collar from the pound. He was in a terrible state, cruelly de-barked, emaciated and had seemed to have given up on life. He needed an understanding forever home who would love him for his remaining time. He found such a home through the efforts of Sharyn who knew this special old guy couldn't take any more disappointments in life. He now lives on a small hobby farm and is a very much-loved family member. They don't care that he dribbles, or that his back legs are a bit wobbly and stiff. He's gaining weight and starting to enjoy life and the little things that other dogs take for granted. He loves nothing better than sitting on the back porch and watching the baby goats playing in the paddock. He has a little wander around the farm and has even rolled in the long grass while a baby goat nibbled on his collar! He thought it all heaven! His capacity to give love despite his previous sad life is both inspiring and very humbling.  Old dogs may never forget but they can rejoice. We are so happy that Sarge came into our lives. *Note*. At the time of sarges rescue we really only thought he would get a few months of good living at the most. But here we are 1 year later and sarge is living large! We are all stunned by the desire of this amazing old gent to squeeze every bit of joy out of this second chance at life. WE LOVE YOU SARGE!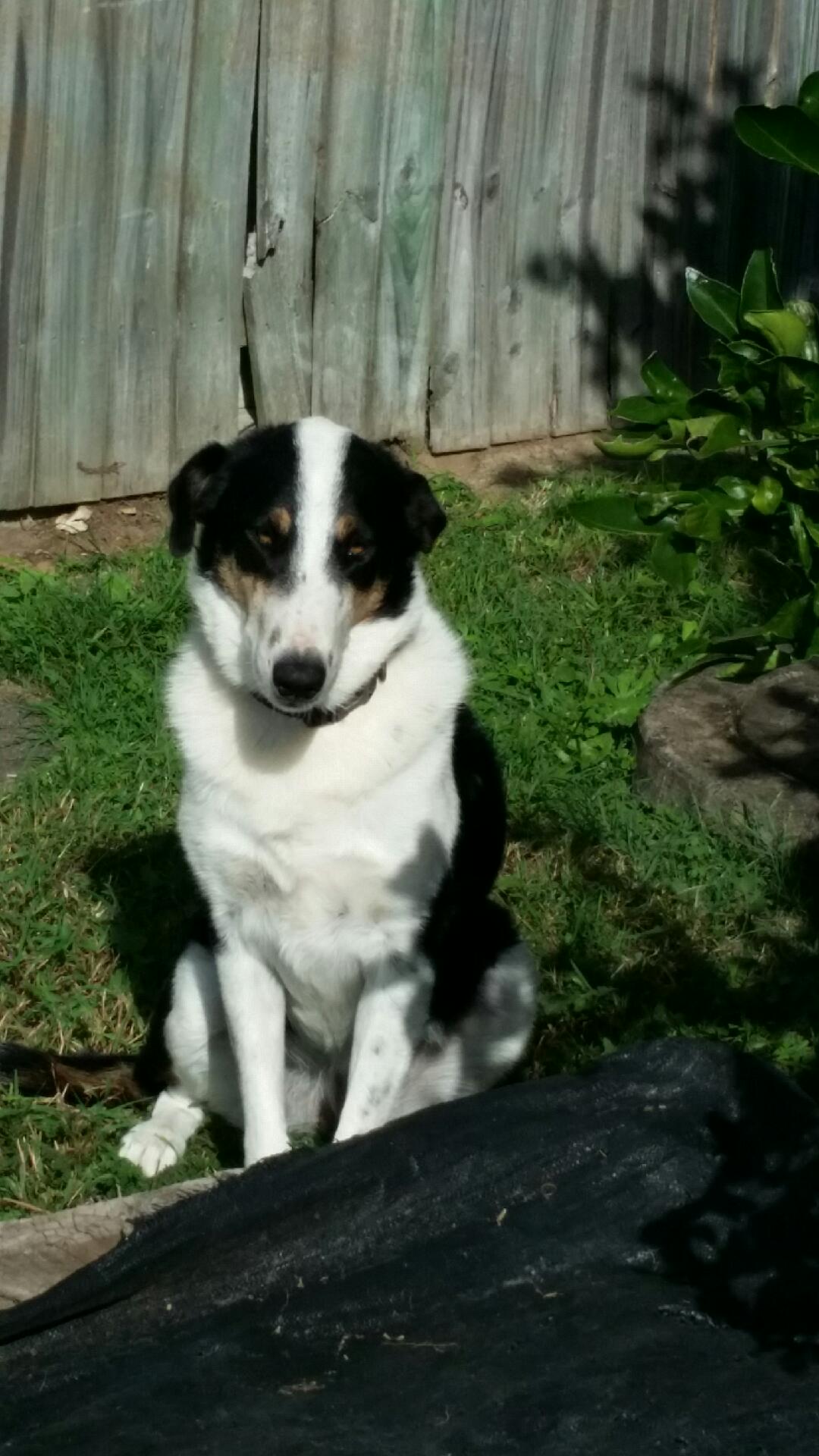 Tess - The Floor Manager
You just never know who's ready and able to foster or adopt. Rose, our 'Nerd' that helps us with our website (from Nerdyness) has just lost their 13.5-year-old Dalmatian to the rainbow bridge; Rose and her husband had always planned on moving into a Unit after he passed, but, as we all know, life without a Dog just isn't the same. Having helped embed our list of dogs available for adoption to our website, Rose had seen all the lovely souls that needed a second chance and toyed with the idea of fostering; so they decided they would try to foster one for a while to give a dog a larger yard and some attention, at least until their found their forever home and their lease was up to go into a Unit. So out they came to have a look at two dogs and they left with 'Tess' a beautiful short-haired Border Collie X in the back seat. Well, 3 days later, like those that have come before, "Foster Fail" occurred, Rose and her husband Tony decided they couldn't live without her, even though they'd promised themselves they wouldn't let their hearts love another fur baby again because it hurts so much when they pass, they just knew that their lives would be better with Tess in them than without. So after filling out the adoption forms (Rose knew where they were because she put them
on our website!), Tess became a permanent member of the family and has been adored by all of Rose and Tony's neighbours as well, getting pats and treats from all of them!
OUR BANKING DETAILS ARE:
ACC NAME - RED COLLAR RESCUE. BSB - 084-544. ACC NO.- 18822 7599
ALL DONATIONS GRATEFULLY ACCEPTED